Sydney SEO
Rest assured, our expertise goes beyond the ordinary. We're committed to seamlessly integrating the most fitting search engine optimization practices, specifically tailored to Sydney SEO standards. This meticulous approach guarantees not only elevated rankings for your website but also a comprehensive strategy that amplifies your online visibility.
As part of our comprehensive service, we don't just stop at optimization. We proactively take the initiative to submit your website to an expansive array of industry-specific, locally targeted, and category-based sites and search engines. This proactive approach serves as a catalyst for enhancing your website's overall visibility, enabling it to flourish within your target niche.
The impact of a strong ranking cannot be underestimated. A website that secures a prominent place in search results experiences a domino effect on its success. Notably, this extends to the pivotal role it plays in generating valuable leads. Count on us to not only optimize your website but also empower it to yield tangible results.
Our track record in the realm of search engine optimization is a testament to our proficiency. Countless client websites have been propelled to page #1 of Google under our guidance. This speaks volumes about the effectiveness of our strategies and the tangible outcomes we consistently deliver. Your website's journey to prominence begins here.
Search engine optimisation
Elevating the prominence of your website within the expansive realm of search engines is fundamentally at the core of the practice known as search engine optimisation (SEO). This sophisticated and multifaceted undertaking delves deep into the intricacies, involving the meticulous enhancement of not just one, but two vital dimensions: the on-page and off-page facets of your website. The ultimate goal? To orchestrate an exceptional symphony of performance within search results, positioning your website for optimal visibility.
Through the artful process of methodically refining a diverse array of elements, SEO endows your website with the capacity to transcend the digital noise. The outcome is a digital platform that radiates distinction, commanding a spotlight of considerable magnitude amid the ever-evolving landscape of online entities. This, in turn, ushers in a grander stage where your website captivatingly captures the attention of a broader online audience.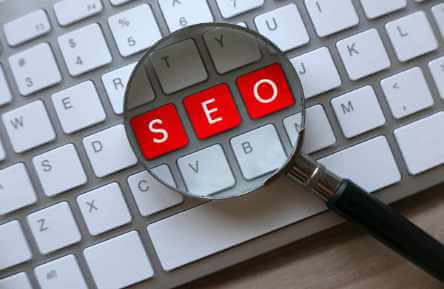 Affordable SEO Program
Experience an exceptional and cost-effective solution tailored specifically for small businesses. Our service, designed with budget considerations in mind, offers a one-time opportunity that caters to your unique needs. Unlock the potential for growth and success with a service that aligns perfectly with the requirements of your small business.
Monthly SEO Program
Discover the advantage of enrolling in our monthly program, meticulously crafted to yield superior and professionally refined outcomes. By participating in this program, you're not only securing consistent results but also gaining access to a comprehensive framework that ensures excellence. Embrace the journey towards enhanced success and professionalism through our thoughtfully designed monthly program, your pathway to sustained excellence.
Search engine optimisation (SEO) stands as a transformative strategy aimed at enhancing a website's positioning within the vast digital landscape of search engines. This multifaceted approach involves a series of meticulous techniques and practices that harmoniously work together to elevate your website's visibility and ranking. The ultimate outcome is not only a remarkable surge in website traffic but also a substantial augmentation of its online prominence, effectively connecting your platform with a broader audience and generating sustainable digital growth.
SEO, which stands for search engine optimisation, is a pivotal strategy (also referred to as "search engine optimisation") that plays a crucial role in refining the online presence of a website. This intricate and dynamic process revolves around optimising various elements to impact the prominence of a website or web page within a search engine's unpaid outcomes. These outcomes, frequently denoted as "natural," "organic," or "earned" results, contribute to the digital landscape by amplifying visibility and fostering a stronger connection between online audiences and the platform in question. By harnessing the power of SEO, websites can navigate the virtual realm with heightened prominence and extended reach, establishing a profound digital footprint that resonates effectively with their target audience.