Why Choose eBwebs, Sydney Graphic Design Services
Crafting exquisite and impactful graphic and print designs is our forte. Our creations leave an indelible mark, ensuring a profound and enduring impression. Your relentless dedication to nurturing your business right from its inception has not gone unnoticed.
However, have you ever pondered whether your branding authentically mirrors your true essence? Are your branding components seamlessly aligned with the ever-evolving currents of contemporary trends? If a shadow of uncertainty looms over these questions, there's no need to fret, for we are poised to shoulder this responsibility on your behalf. Entrust us with the task, and our ingenious team will deftly orchestrate a flawless logo design and a comprehensive identity package, thus bestowing upon your business an unparalleled and resolute aesthetic.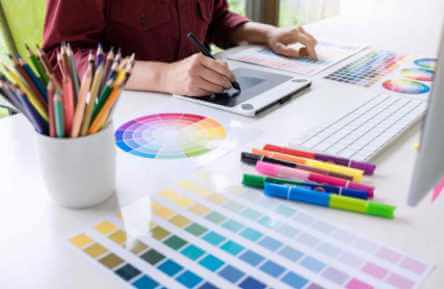 Unlock the Power of Visual Identity with Our Sydney Graphic Design Services!
At eBwebs, we understand that great design is at the heart of impactful branding. Our expert team is here to bring your vision to life through a range of creative services:
Logo Design: Your logo is your brand's face. Let us craft a memorable logo that captures your essence and leaves a lasting impression.
Business Cards: Make networking a breeze with professionally designed business cards that reflect your business's professionalism and style.
Flyers/Posters: Spread your message with eye-catching flyers and posters that grab attention and get your information across effectively.
Menus: Whether you're a restaurant or a café, we'll design menus that not only showcase your offerings but also enhance the dining experience.
Brochures: Tell your story in style with well-designed brochures that inform, engage, and leave a mark on your audience.
Invoice Books: Even invoices deserve a touch of elegance. We'll design custom invoice books that convey your attention to detail.
Letterhead: Make official correspondence a brand-building opportunity with personalized letterhead that adds a professional touch.
Packaging: Your product's packaging is your silent salesman on the shelf. Let us create packaging designs that make an impact and tell your brand's story.
Whether you're a startup or an established business, our graphic design services are tailored to elevate your brand's aesthetic and communicate your message effectively. Let's collaborate and turn your design aspirations into reality!